UMBRACO EXPERTS 
Over the years we've worked with a number of technologies and developed both PHP and .NET solutions. We've worked with dozens of Content Management Systems (CMS) and have settled on Umbraco. We've built over 30 client sites using Umbraco, we have code running in the Umbraco core and are active members of the Umbraco community. We host and attend umBristol events regularly as well as creating and annually hosting our own highly popular Umbraco innovation conference, Umbraco Spark.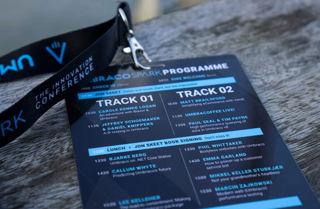 Core functions
Does it meet your needs and can it interact with your existing business systems? CRMs, financials, ERPs, EPOS systems, ecommerce systems, etc?


Easy to edit
Is it easy to use, add new content, manage images etc.? Even for non-technical users?


Design possibilities
Can your creative juices really flow or does the system hold you back? Are you stuck writing single column articles when you would really like to create glossy magazine layouts?


Customisation
Can you easily re-order pages, content and layouts?
Admin
Can you add new users, manage multiple sites and support different languages without worrying about losing your hard work?
User interaction
The end user experience is critical so make sure your CMS really supports the layouts and features you need.


Search engine optimisation
Is your CMS optimised for SEO and does it let you easily manage SEO data?


Accessible
Does your CMS cater for accessibility needs easily without extra overhead?


Continuous improvement
Is your CMS well supported, regularly updated, secure and easy to maintain and add new functionality?


Umbraco does exceptionally well on all these points. We would be very happy to discuss if it suits your requirements or to demo the CMS to you.
For more details please visit umbraco.com
UMBRACO CMS DEVELOPMENT
Content Management Systems are everywhere, so which one is right? Understanding which offers you the best flexibility, design and control can be tricky without the right support.
At Gibe, our specialism is sites built upon the Umbraco CMS. It is a well-supported open-source platform built on the .NET framework. This means that unlike some other enterprise CMS platforms there is no monthly or annual cost just to use it. We have worked with other platforms including Sitecore, RedDot, Drupal, Wordpress, Perch, etc. but over the years Umbraco has proven itself to be a solid-workhorse that gives our clients flexibility.