THURSDAY
The team assembled at the office around lunchtime, ready to make the trip down to Bristol Airport. After the usual security checks and killing time with some beers at the bar, we made the (very) brief trip over to Ireland. After sorting some taxis, we soon arrived at the Ashling Hotel, ready to check in. Well, half of us did, as delays to our flight meant that some had to rush to the Brazen Head, the oldest* pub in the country and where we had planned to have dinner that night.
*May not actually be the oldest pub in Ireland. Another pub also makes this claim, so which is the most historic remains unknown. Rest assured, it's old.
After our fashionably late arrival, rushing turned to relaxing, and tucking into some comforting pub food. We opted to stay after our meal where we were treated to some live music, drinking, and playing games, which may have resulted in more drinking.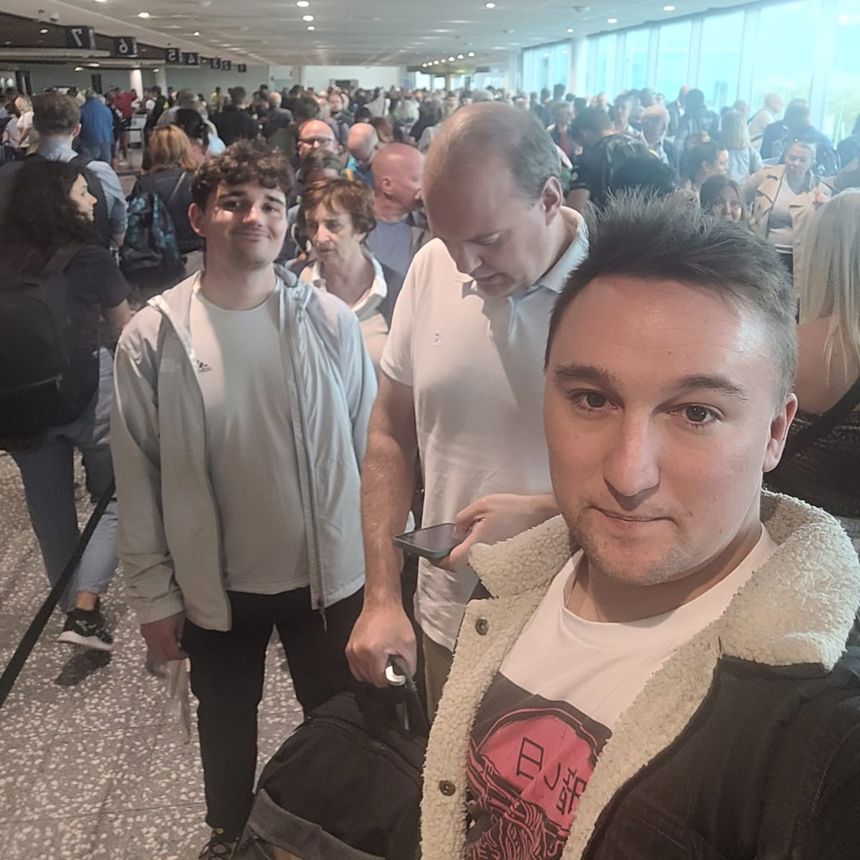 FRIDAY
The 9am start proved challenging considering the night before it, but everyone (just) made it and most of us even managed to get some breakfast down in the hotel beforehand. After a fresh morning stroll, we arrived for a tour of the Old Library, home to the Book of Kells - an original manuscript containing the four Gospels of the New Testament, as well as other cultural treasures. The Long Hall is not only a staggering building, but also contains literature that has been preserved for thousands of years!
With just enough time for a quick coffee break, we headed back up the river for a cruise of the Liffey, where the guides provided a light-hearted and humorous, but also insightful background of the history of Dublin. This was, of course, followed by a great lunch at a local bar, and to my delight, a few rounds of pool.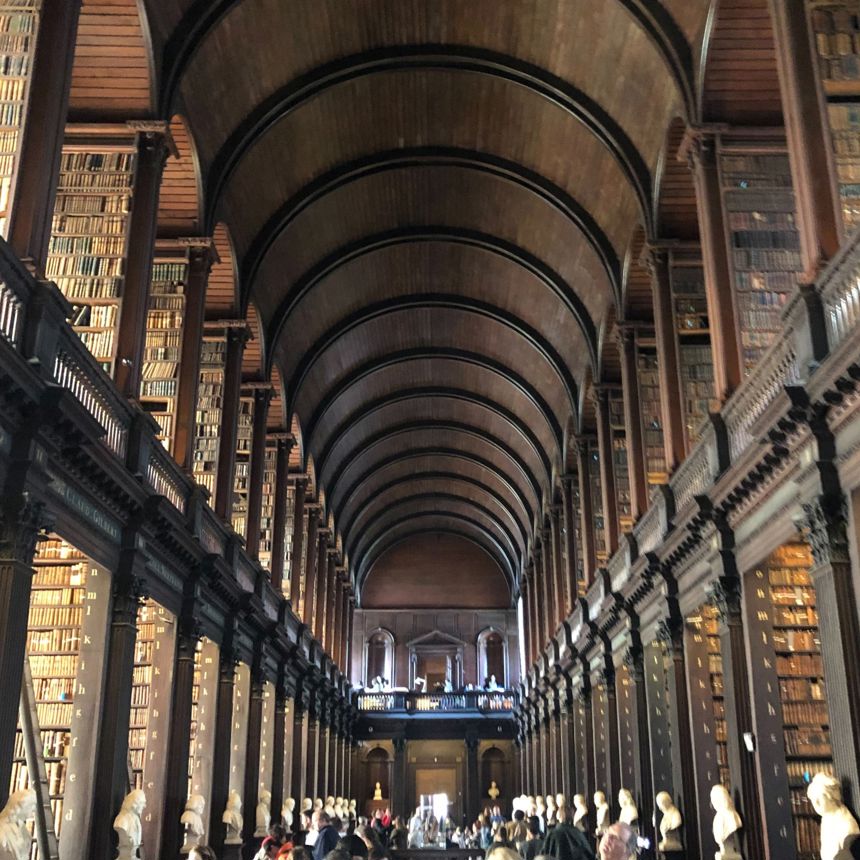 Our next stop was the Kilmainham Gaol, a decommissioned prison turned museum, which showcases its involvement in various conflicts through time, such as the Easter Rising, Anglo-Irish War, and Irish Civil War. While being a building initially purposed for horrible things, it was really interesting to learn about and means that future generations will be able to reflect on these moments in history.
After what was quite an intense activity, we stopped for a quick siesta at the hotel and freshened up for the night's dinner at F.X.Buckley Steakhouse, which went down an absolute treat. The team then made our way to the nearby Temple Bar, which had great live music, and Guinness and Whisky aplenty. A few hours down the line, some decided to call it a night - but the rest of us weren't done there and found a local nightclub where we danced (questionably), to '90s/'00s club classics 'til the early hours of the morning.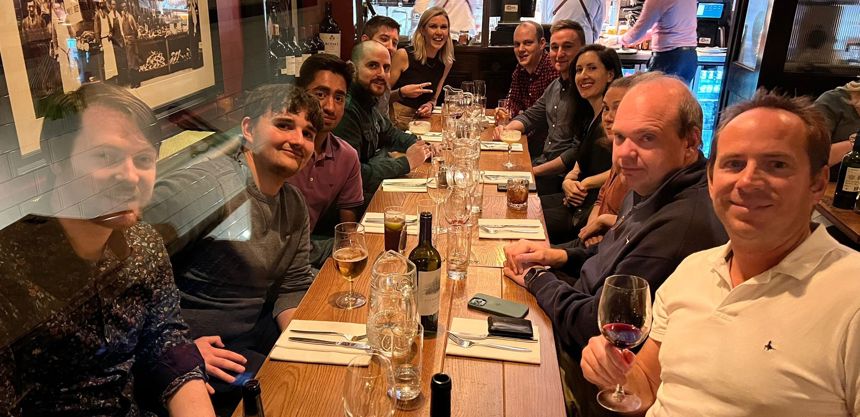 A trip to Dublin is not officially a trip to Dublin without a tour of the Guinness storehouse, but thankfully that's where we were going next. We learned the full manufacturing process of the iconic stout, and enjoyed a tasting session of some of the freshest Guinness around, followed by a showcase of props and clips from some of their classic advertisements. The tour concluded with a pint in the Gravity bar, which boasts a breathtaking 360° view of the city. Made more impressive due to Dublin's notably small buildings - meaning you can see for miles on end!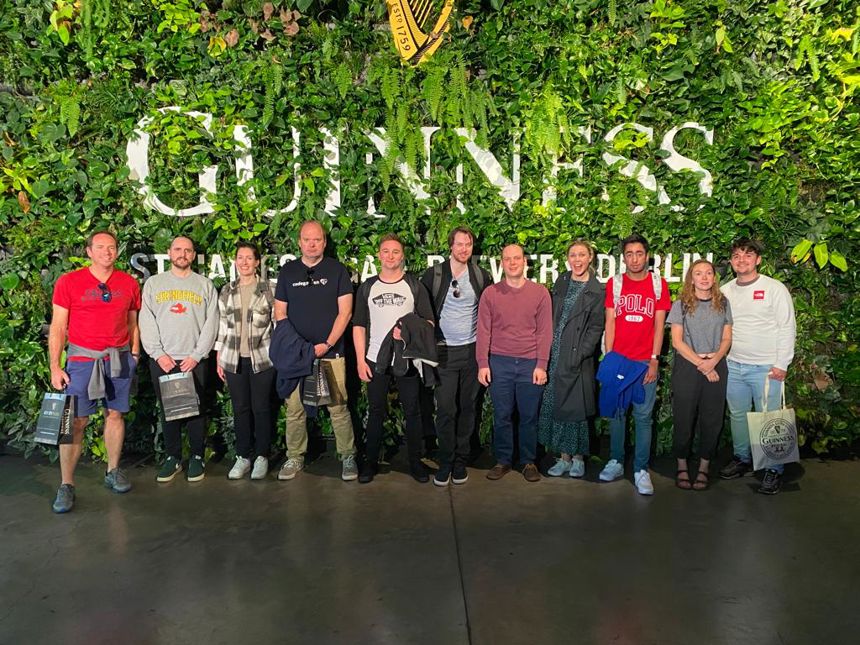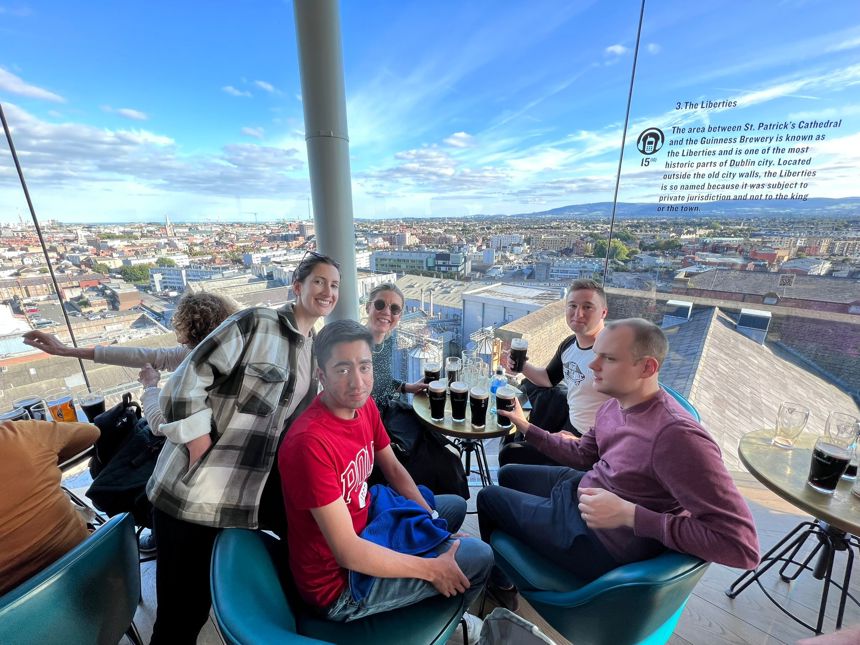 Saturday
Another difficult morning was quickly made easier by our trip to Dublin Zoo, where we were able to see loads of rare animals from all around the world - the wolves and red pandas being my personal favourites. As you may know, Hugh is a big fan of the Zoo, however, unfortunately, could not be on this trip due to a last-minute case of Covid. Therefore, we all made sure to let him know that it was the best zoo we'd ever been to, and a shame that he missed out on it (sorry Hugh).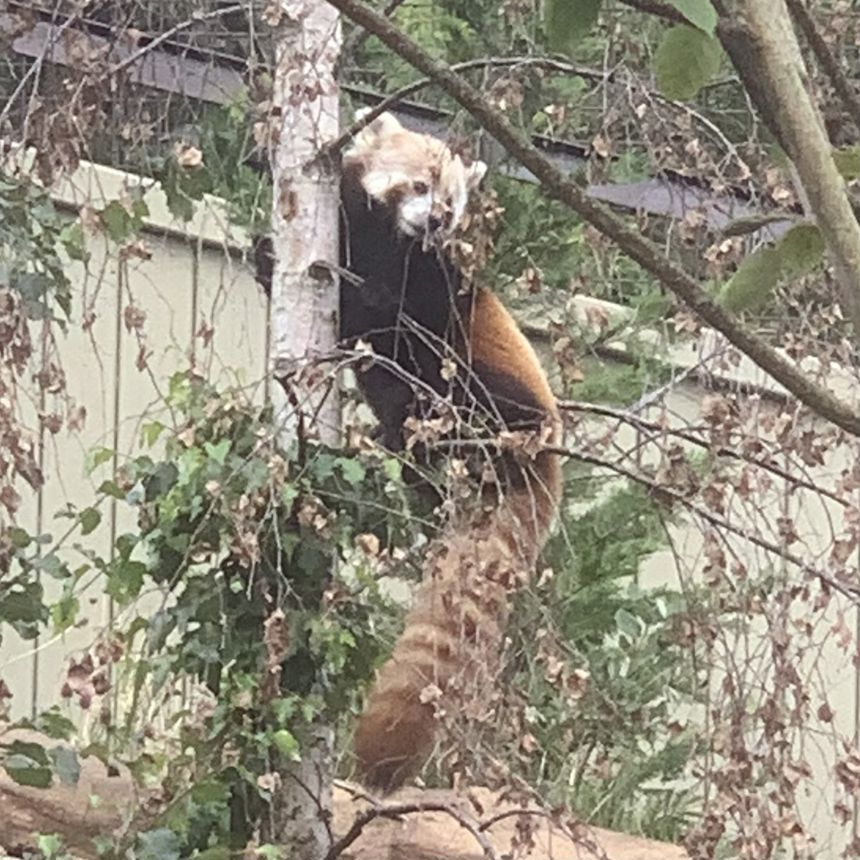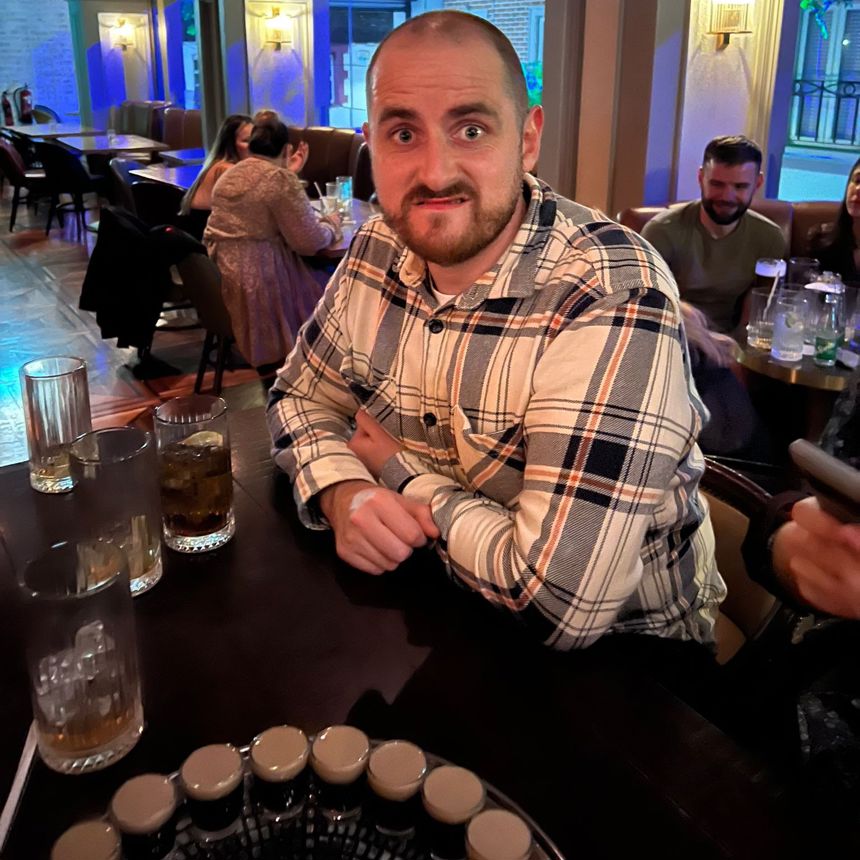 The night's food and entertainment were provided at the Cafe en Seine; a stunning venue featuring a restaurant, bar, indoor street garden/dancefloor - this place had it all! We all agreed that the service there was to be desired at times, e.g., Luke not having a table to eat at for the first half of the night, but once the food came it more than made up for that. Due to being the last night, the whole team pushed to make the most of it and stay out late. Although some people seemed tired, and maybe a bit fed up (and by some people I mean myself), it ended up being a brilliant evening spent dancing and belting out cheesy pop music.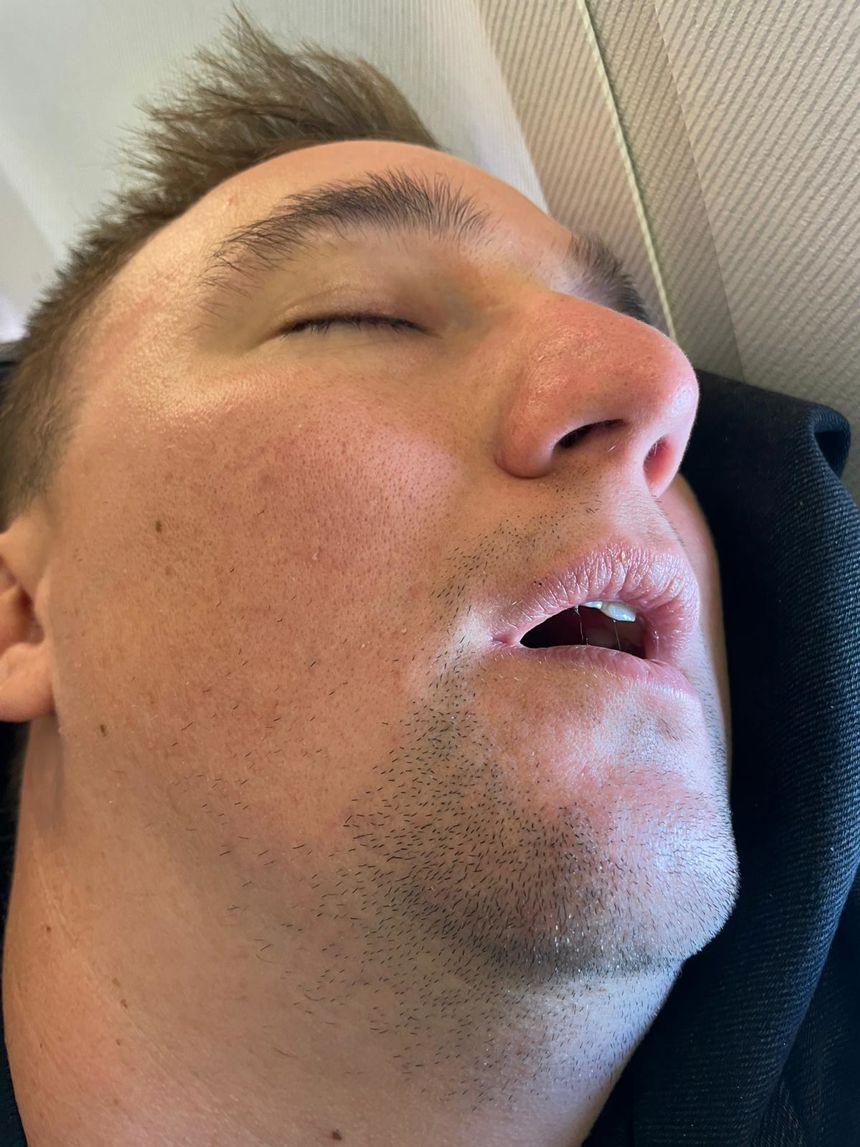 Sunday
Despite the morning being allocated as "Free time" to do as we liked, most of us opted to spend this time catching up on some very needed shuteye. Me and a few others did manage to get in a quick walk around the surrounding area in before our quiet and sleepy return home, which concluded an amazing weekend away.
While this annual company trip is an incredible bonus to working at Gibe, I now see how important it is too. I'd think I can say that I bonded more with my team in this one weekend than I had over the 3 months prior to it. As one of the newer recruits, it has been a really fun way to not only get to know the people I work with on a day-to-day basis, but also those that I don't. So, thanks everyone, and here's to the next!