Codegarden 2023
It's genuinely hard to know where to start when trying to describe Codegarden. After hearing about it for so many years, how fun it is, how informative it is, how everyone you meet is so warm and friendly, how there's bonkers prizes at bingo and cars might get flipped upside down. I was, understandably, very intrigued and eager to experience the journey myself but not being a developer I wasn't sure if I'd find a place or feel out of my depth in rooms full of incredible clever coders. How would a manual QA find it? Would I be wondering around not knowing which talk to go to and how would I know who to talk to..?
WELL.

From the second you see the entrance to the site you're met with what can only be described as a corridor of smiling welcoming faces and high-fives, and as you head towards the main hall you wander past a goldman (yes a gold-man) dancing whilst a DJ pauses to play the saxophone. I knew this was going to be a unique event. 
The site was split into a number of key areas: the main hall was the Social Space - a stage and seats with stations all around the edge for Swag (first item free), Candy Shop (all items free), a caravan and picnic tables, a comfy zone at the back with screens to use if needed and one comfy section even had a selection of nail varnishes if you wanted zhuzh yourself up a bit.
From here you can access The Theatre which was the first room we spotted that will be used for Codegarden speakers. A short walk down the waterside you are met with two more speaker rooms - Alfred & Kamila 10 and 16. Both rooms were effortlessly stylish and whilst it was very hot when busy, no one was going to miss what was happening inside.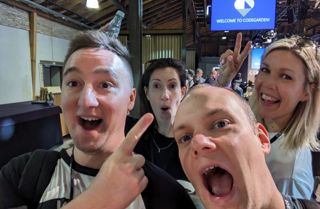 So with that in mind let's get onto the talks. From what I heard throughout the conference every single talk was engaging, interesting, thought-provoking and inspiring, but as I could only be in one place at one time I'm only going to list the ones I was lucky enough to see. (Apologies to anyone reading this who spoke and can't see their name - sending out a H5YR across the digital waves.)  

The welcome and keynote talks from Umbraco were fun, warm and very well... welcoming! A particular note was if you saw anyone who was on their own then head across and say hello. It was all about inclusivity and friendliness. During this the Umbraco Most Valuable People (MVPs) were announced and we have some MVP's here at Gibe! Steve and I had our MVP status renewed and Cat got hers for the first time! Nice work Team G 🙂
After some silliness on stage for photos: New MVPs, All MVPs, Women, HQ and Beards and Balds to name a few, we made our way to find some speakers.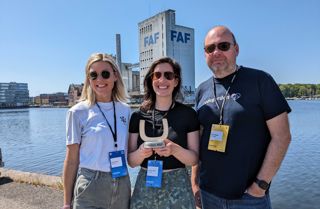 Umbraco anno MMXXIII (Bjarke Berg) - A really cool exploration and showcase of neat Umbraco features how they can benefit you and where it's heading.
Using Lego to solve the wordwide developer shortage, improve diversity and supercharge your career (Paul Marden) - I never knew Lego could be so good for you! Paul's talk was really fun and he shared how there's an amazing way to teach children about robotics and code. Check out > https://raisingrobots.com/
Fun with flags (Matthew Wise) - Matt showed us how you can save time and make life easier for yourself with flag management, which was pretty sweet.
10 Do's and Don'ts of Sustainable Systems (Andy Eva-Dale) - Sustainability is a key topic right now so exploring ways to make smarter decisions to improve this was really interesting.
Exploring the new Backoffice (Jacob Overgaard) - Jacob provided us with a tour which was cool for me as being on the Backoffice Community Team, it was nice to see the hard work being shown off!
Fix the Six: a personal and practical explanation of web accessibility (Danny Lancaster & Molly Watt) - Molly and Danny's was a funny and touching explanation of how and why we should make all aspects of our world a more accessible place. Highly recommend!!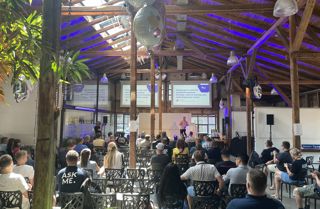 After this it was time for a breather and a quick game (or two) of Hammerschlagen before dinner and the Umbraco Awards. Karla CEO of Blend Interactive, shone in a glamorous gown and was our host for the evening. There were more than 200 entries to the awards, and whilst Gibe sadly didn't win we were one of 6 nominees in our category. Huge congratulations to all the winners. Each entry was of such a high standard, it was really great to see Umbraco being used in such interesting ways. 
After drinks and 'networking' we went to watch a late night umbraCoffee and Cat joined on stage to celebrate her new MVP status. It was such a full on, fun day we decided to call it a night early and head back to the hotel.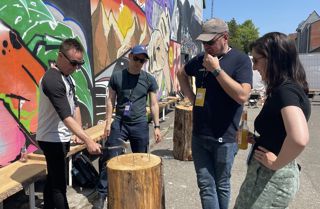 Day 2 began for me at 6:45 with a swim in the harbour pool with some lovely Umbracians, which was a little cold at first but super refreshing for another big day at CG. Having the chance to do this felt like a real treat, especially the sauna after! If staying on dry land is more your style then there were running and cycling groups heading out at the same time. And if you fancied something a bit slower paced there was yoga organised inside the Social Space.
A really lovely addition to offer to all attendees, and now we're fresh, ready for today's talks.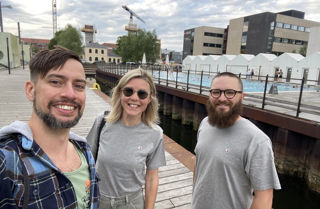 Mental Health in Technology (Jacob Spencer) - With sensitivity Jacob demonstrated ways to support anyone who might be having a tricky time, why it's so important and the benefits to everyone of having a company policy in place.
Advanced Debugging (Steve Temple) - Tremendous Temple gave a great talk on how to best utilise the common tools/data available to developers when debugging.
Finding Contentment (Lee Kelleher) - Hold on to your seats! This was a fast past whistle stop tour of all the ways (and there were a lot of them!) that Umbraco property editors and features can be used to create an excellent user experience in the CMS.
Best practices for planning scalable websites (Blake Watt) - In this talk, Blake demonstrated the best ways to use Umbraco's features to customise editor experience and also futureproof a website, it was a great way to see how a solid structure can not only make the UI better for users but also easier for developers to maintain.
No testing fright with Playwright (Nikolaj Geisle) - Whilst we test using Cypress at Gibe it was really interesting to see how other test automation platforms work and how they compare.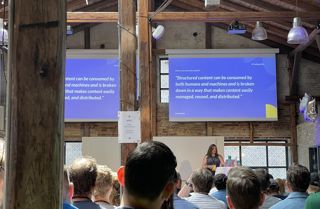 As you can see there is such a variety of topics you do not have to be a developer to feel at home here, there are options and subject matters covering a huge breadth of knowledge and experience in all aspects of Umbraco and life in the world of technology. 
For me personally it was soon time for my brief moment on stage at Codegarden with the Meet the Community Teams session. 
I joined the Documentation Curators team in February 2020 and I was only able to spend time with my new team via Zoom. In September 2022 I finally had the chance to travel to Odense to meet people who I'd only seen in tiny boxes on my computer screen, so I was super excited to get to Codegarden this year and see all these faces again.
I made a pivot to the Backoffice team earlier this year so it was fun to get on stage with them and introduce ourselves and share what we'd been up to.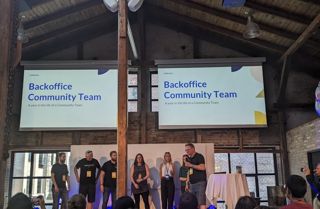 But now it's time for dinner and as you can imagine being an event from Umbraco, it was dinner with a difference. Elegantly dressed long tables filled the main hall but on each plate was a sweat band with an Umbraco logo. What is going on here…?
It was the UmbracOlympics! With the torch carried across the globe by members of the community and presented in true style by Kim on stage with an Umbraco rabbit or two.
After some sensible warming up exercises the games began. We had a 600 person tournament of rock, paper and scissors, track and field (with the humorous addition of some technical glitches), bingo and Jenga. Oh my god the Jenga! 
A battle of calm, nerve and skill rocked the dining room! And chants of "MVP! MVP! MVP!" to a killer move, which I'm sure you've all heard about.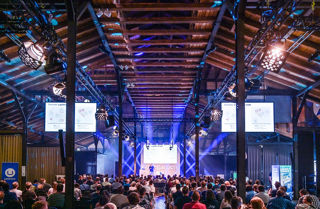 After all the excitement and great food, the dance floor appeared and swallowed us up for a fantastic party which went on until 2am with all sorts of music and all sorts of shapes.
It was the perfect way to end a truly unforgettable, inspiring event.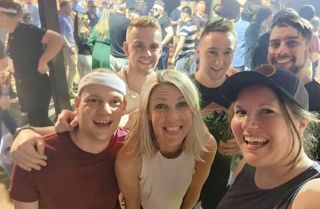 The next day was an understandably slower start but we headed back to the site for 9am as Cat was introducing two talks:
MACH ado about the future (Emmanual Tissera) - An interesting exploration into avoiding 'Frankenstack' sites and instead having micro-services for a cleaner more manageable project and how Umbraco fits into this. 
Did FIDO eat your Password (Alexander Fjellvang) - This was a really interesting discussion on the frustrations of password management tools, more apps to have, and ironically more passwords or log in data to remember. Can we move away from them and towards any other solutions, e.g. fingerprint..?
Right up until the end the talks were excellent and engaging.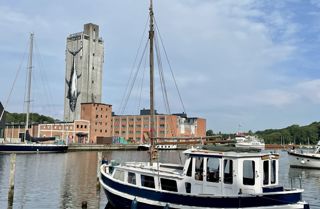 We headed back to Bristol via a stop in Copenhagen to visit the infamous War Pigs and original Lego store, we felt shattered but can't wait to do it all over again next year. 
I wrote this on Twitter but I want to repeat it: if you have an openness to help on any scale with anything Umbraco related you will be met with a very friendly face, support and a bucketload of appreciation.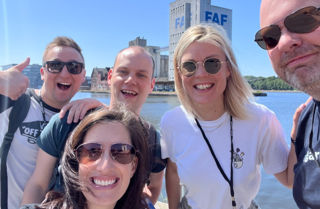 I can honestly say that Codegarden has space for everyone who is in the world of tech. I have never been to a more fun, encouraging and inspiring event. 

Thank you Umbraco and to everyone I saw over the week, it truly was a tech conference with a difference!
High five. You ALL rock.