Codegarden 17
Earlier this month, Steve and I travelled from London to Odense, Denmark to learn, network and socialise with other like-minded developers at the world-famous, annual conference for Umbraco developers... Codegarden.
The Journey
We set off from Bristol to London Heathrow Airport for an afternoon flight to Copenhagen.
Even though we had a short flight, we would still need to get a train to Odense, another two hours from Denmark's beautiful capital city.
After a long flight delay in London, we finally arrived at our hotel room in Odense at 2am!
We missed the pre-conference party at Umbraco HQ, but a well-earned nights sleep (in what can only be described as a quaint and cosy hotel room) was had, leaving us ready for the next day at the conference.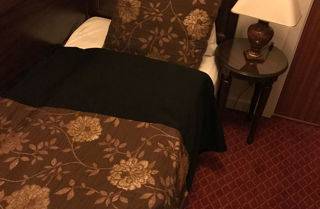 The Schedule
The Codegarden schedule was split into three different rooms (or tracks) with presentations.
The different tracks were aimed at different skills, including back end developers, front end developers, project managers, creatives and more.
On the first day, the conference was opened with a keynote from Umbraco's "chief unicorn", Niels Hartvig.
The keynote was a welcome to attendees and showcase of the past year and what is going to happen in the upcoming year for the Umbraco project.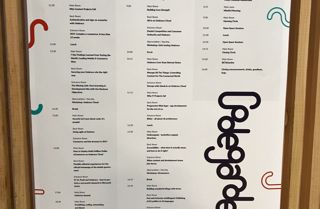 The Talks
There were lots of interesting and thought-provoking presentations at this year's Codegarden, but here are a few that we just had to mention...
Shannon Deminick showed us how Umbraco was Building Core Strength. He spoke of how Umbraco was structuring product releases and improving quality, performance and stabalisation of its key offerings, which include Umbraco CMS, Courier and Umbraco Forms.
Shannon also took part in a joint presentation with the Umbraco HQ team, plus select community developers, which showcased the prototypes found as a result of the Umbraco Core Team Retreat.
Rune Strand and Mads Rasmussen showcased the capabilities of Angular directives in the Umbraco backoffice as part of their talk, Umbrangular. With a witty presentation, they gave us a fantastic insight into using Umbraco Angular directives.
Next was another fun talk from Per Ploug about Building Wonderful Things with Forms. Per used Umbraco Forms to allow conference users to send a fake drinks order to an external printer live on stage.
Matt Brailsford gave a fantastic talk about Progressive Web Apps. He demonstrated how to use web browsers (HTML, CSS, JavaScript, service workers and push notifications) to replicate native app functionality, with data from a simple Umbraco CMS.
One of our favourite talks, however, was from Sebastiaan Janssen about Securing Your Umbraco Sites. Sebastiaan works at Umbraco HQ and he packed out the smaller track room as he shared what security Umbraco has out-of-the-box, and how developers can add even more.
The Boat Trip
Codegarden always provides evening entertainment, usually involving a boat trip.
The conference is designed to be inclusive, so meals and refreshments are provided at the venue each day. Guests also remain at the venue in the evening to socialise and party together.
This year, attendees were taken to a local dock, where three boats waited to ferry the guests up the river.
After returning to the venue, the party was in full swing with music, beers and late night snacks.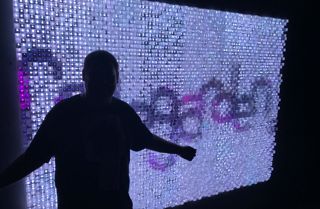 The Bingo
But Codegarden is mostly known for the famous Umbraco Bingo!
After a three-course meal and flowing beer, we were first treated to a live pipe band who paraded into the venue.
Our hosts, Niels Hartvig and Per Ploug, entered dressed as Donald Trump and Theresa May. It was UK election night after all!
The bingo was two rounds of Umbraco-themed terms and ridiculous prizes, including an Umbraco baseball bat, cowboy hat, boots and vest, food processor and even a Nintendo Switch (that was a booby prize).
The grand prize was a decorated car! This was a short-lived prize as a crowd soon gathered to flip the car onto it's roof, where it remained until the next day.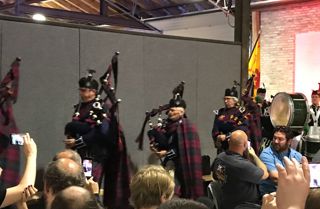 The "legendary" YouTube sensation, DJ det guten Laune, took to the stage to start the after-bingo party, with massive tunes from the 80s and 90s.
The Umbraco Rabbit
Yes, you read that correctly... The Umbraco Rabbit!
Codegarden has two furry regulars in the Umbraco Giraffe and the Umbraco Rabbit.
Making its annual appearance, the Umbraco Rabbit and I jammed to 80s music, complete with keytar, at the after-bingo party.
Nobody knows exactly who he or the giraffe are, but we sure danced til the early hours.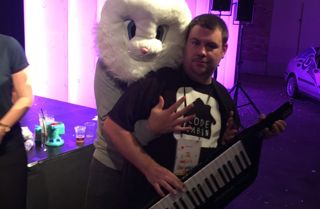 The Last Day
A visit to Denmark isn't complete without a trip to Warpigs, a BBQ brewpub in Copenhagen.
Warpigs has become a must for Umbraco conference goers, dishing out amazing BBQ and beers in the Meatpacking District of Copenhagen.
Since the sun was shining on our last day, we decided to make the pilgrimage with friends (including easily burned, Lee Kelleher) to Warpigs.
It was a fantastic way to relax after an action-packed few days, reliving the conference talks, sharing our experiences, ideas... and a beer or two.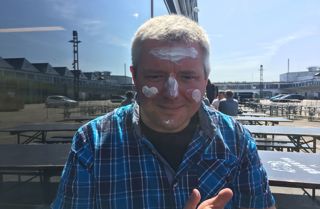 Want to attend Codegarden 18? You might see some of the Gibe team there too...