The Whistlefish story begins in the heart of the South West, 1998. Local artist Lynda Thompson was busy hand-painting greeting cards in her home. Fast forward through a decade of hard work with backing from the Princes Trust, Lyn had setup a printing and framing workshop and had ambitious plans to sell greeting cards, artist prints and canvasses online.
In 2013, Whistlefish asked Gibe Digital to design and build a new website tosell these hand-crafted products. Whistlefish was growing fast, it needed a scalable and robust ecommerce platform so we used GibeCommerce and Umbraco. With GibeCommerce, Whistlefish could easily upload and edit thousands of products, keep an eye on orders and provide excellent customer service with an intuitive order and customer management interface.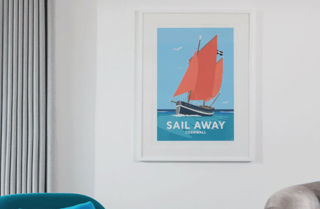 "Gibe's responsive first attitude was a breath of fresh air and it has proven a good decision to work with such a nice bunch of people who know what they are talking about."
The responsive design needed to be immersive and engaging but also act as a blank canvas for the 10,000 colourful hand-made products that Whistlefish sources independently. The new site recogniseds returning customers who know which artist they are looking for as well as new customers who are browsing for the first time. We provided top of the range search technology and established clear categories to inspire customers to shop by theme, occasion or relationship.
The website's launch marked a real victory for both Gibe and Whistlefish. In the first year alone, we increased average order value by nearly 50%, increased site traffic by 60%, which meant in their first year they attracted an impressive 202,000 visitors. We regularly updated the website with new features and design improvements to compete with the changing ecommerce landscape.

With the help of GibeCommerce, Whistlefish gotare onto the first page of Google for greetings cards. Whistlefish have been able to pro-actively utilise a successful marketing plan with flexible discounts that offer customers multi-save offers and discount shipping to the UK and Worldwide. Whistlefish can maximise potential revenue and encourage repeat custom by offering gift certificates and customer loyalty schemes.