About the project
Leading cereal company, Nestlé Breakfast Cereals share their tips and tricks of the breakfast business with a brand new website, Cereal Success, built by Gibe.


We had been working with Nestlé for two years on a number of consumer brands before we linked with Cereal Partners UK (CPUK) in 2014 to redevelop and redesign their new website. CPUK are responsible for leading products within the cereal industry including Corn Flakes, Weetabix and Cheerios and with growing competition there has never been a more important time to establish and strengthen multi-channel selling.
The challenge
The challenge was to explain and promote a service for convenience store managers whereby a representative visits the store to assess how the shop display to help them sell more cereal, specifically more Nestlé cereal. 
By establishing a dialogue with the retail businesses that sell their products, CPUK wanted to be recognised as the go to place for advice on all things cereal. Through initial user research, market research and competitor reviews, CPUK and Gibe Digital agreed on a combined approach.
Our approach
In our approach, we identified four key roles that the website needed to play:


Increase conversion by encouraging more convenience store owners to request a store visit
Validate the service by providing case studies detailing sales uplift and growth in profit
Leverage the Nestlé brand to promote credibility of CPUK as experts of the cereal industry
Inform business owners about key product information, reasons to stock their products and key cereal insights
What we did
Here are just a handful of the features we gave the Cereal Success website:


Online planograms use floor and shelf space to determine how best to display cereals in the shop space
Profit on Return calculator helps shop owners calculate profit return per case of produce
Interactive 'score your store' quiz to help identify any key weaknesses within the shops' current stock inventory, which then advises on improvements with infographics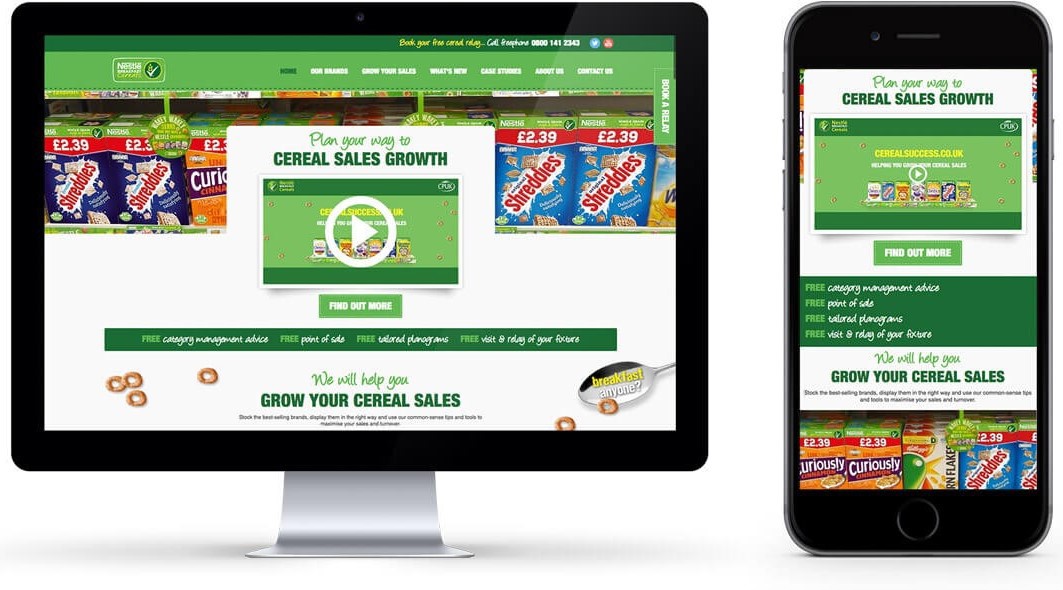 The result
As a relatively new service offering for convenience stores, we realised that leveraging Nestlé as an influential brand and creating a dedicated section for sales tools would help the target audience understand the value of the CPUK service. 
We wanted to create a fun and engaging brand experience utilising online interactive tools. With two websites for one, we separated content for convenience store owners and food service workers with two separate information architectures.
The website has been credited with allowing store owners access to materials that have directly led to an increase in their sales. 
As Nestlé have continued to bring on new brands the site has continued to update and Gibe have supported with the creation of new features and material for campaigns and to keep the site fresh and modern.